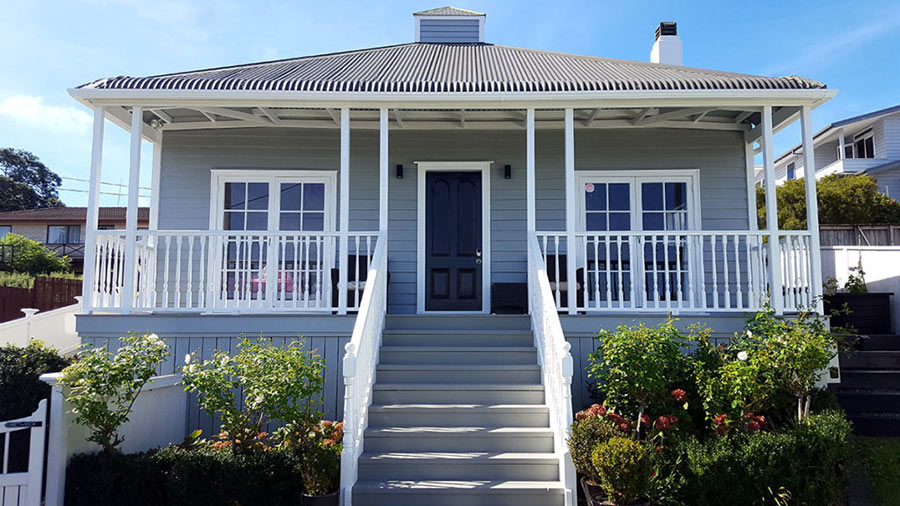 We do a lot to maintain the exterior paint of our cars, but we don't pay nearly enough attention to the exterior walls of our beautiful homes. Just like our cars, the exterior of our houses requires greater care and attention. Ongoing maintenance and care given to the exterior paint not only makes your home feel more lively, fresh and beautiful but also protects the timber underneath.
Exterior paints need maintenance and it is the key to longevity. House paint needs to withstand the harsh conditions of rain, sun, dirt and pollution which are other major factors that deteriorate the finish of your exterior paint job.
The paint you choose needs to have characteristics that help it withstand the harsh conditions outside. With constant exposure to weather elements, exterior home paint starts eroding. cracking, flaking, fading and in the end could affect the structure of your home. Keeping your home looking fresh and vibrant all the time feels like a never-ending task unless you hire the best painters in Auckland to do the job for you. Citywide Decorators have the skills to keep your place looking pristine and new while fighting against the eroding effect of the sun's ultraviolet rays on the exterior walls of your home. These are some of the stages you might notice:
Fading
As the term suggests, the stage occurs when the colour of the exterior paint begins to fade. This process of photodegradation is most noticeable in dark colours. Fading process is very slow, so you might not notice the colour has started to lose its spark. After a couple of years, eventually, you find entirely a different shade on your exterior walls.
Chalking
This process is a successor to fading. Homeowners may mistake it for fading, but a thin white film left behind after a chemical reaction between molecules of paint and UV rays means you need to re-paint. This thin film makes repainting a problem, but don't worry Citywide Decorators know how to deal with it!
Peeling
Direct and long exposure to the sun and rain causes peeling of exterior paint. This process occurs when microcracks open and allows moisture to pass through paint and the exterior wall surface. This causes separation and de-lamination. When the sun rays heat the surface, the process of separation becomes faster, leading to peeling.
As we discussed, it's not just the rain and sun that break down the molecular structure of the paint, but also pollution and dirt. Careful cleaning is needed to remove dirt and air pollutants, and then a coating that can resist rain, and reflect the hot summer sun as well as the bone-chilling winters.
Citywide Decorators can prepare and clean, prime, fill and paint your place until it looks like new again. Call us 0800 766 344